Starting at $ 499.99
As the balance between in-person conferencing and video conferencing has shifted during the pandemic, dedicated devices supporting work-from-home communications have flourished.
Enter the Nexvoo NexPad Pro T530, a collaborative effort between Microsoft, Android and the Nexvoo company.
The result of this bizarre collaboration is a Microsoft Teams certified video conferencing Android tablet with full access to the Google Play Store and suite of solutions.
The strengths of the Nexvoo NexPad Pro T530 are that right out of the box it runs Android 10, comes with an ultra-HD 4K video camera, FHD display, stereo microphones, support for Bluetooth 4.2, dual band Wi-Fi, all. packaged in a certified Google video conferencing tablet under one pound.
What's in the box
NexPad T530
Ethernet cable
HDMI cable
AC adapter
Quick Start Guide
2 year limited hardware warranty
Look and feel
The NexPad looks like many recent attempts by companies to provide dedicated home assistant displays such as the Nest Hub Smart Display or the Lenovo Smart Display.
Approximately nine and a half inches wide and 5/8 inches thick, the folded origami-style design in matte black does its best to maximize the overall footprint of the NexPad, which takes up about as much more desk space than an average Bluetooth speaker.
There are rubber stoppers on its vertical and horizontal sides to allow positioning in landscape or portrait conference views. The consideration of visible orientations will not go unnoticed for users with limited office space.
Although it weighs around a pound, the NexPad feels dense, which provides a premium feel despite its rigid plastic casing.
While browsing the device, users will find the connectivity ports on the back / bottom of the tablet tucked away in the loose fold of the design, which can make it difficult to access. The carved grooves for the Kensington lock, power supply, and 10/100 Ethernet port are deep, allowing for a secure connection, but it's hard to unplug for adjustments.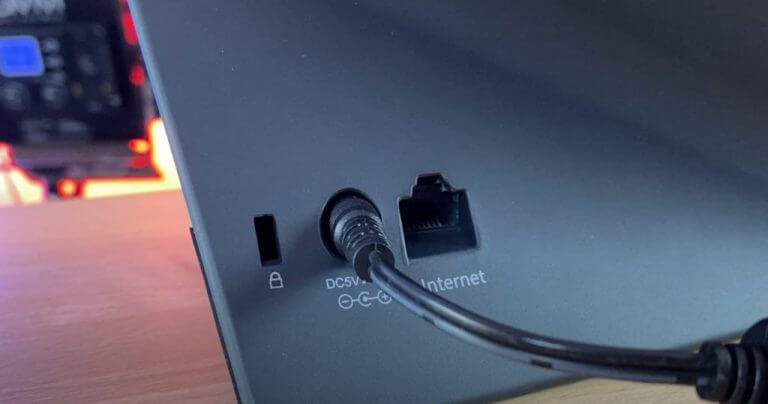 On the other side of the loose fold is the HDMI output port as well as the speaker box. There are two small holes along the top / side of the NexPad for the mics, a camera shutter next to them, and a webcam built into the display frame.
Speaking of screens, the NexPad's screen is a modest 8-inch FHD 1900×1200 display with mid-sized bezels around the exterior walls and seems to push around 300-400 nits of brightness.
Depending on where the NexPad is placed, you can get a decent glare on the glossy touchscreen, but for the most part, the device's screen is serviceable and works well as a dedicated visible video conferencing device.
Tactile responsiveness isn't as smooth as you'd expect, but as a dedicated communications device, it gets the job done fairly decently.
Performance
With most of the attention paid to the screen software release on the NexPad, performance was on par with Google's Nest devices and roughly above Lenovo's dedicated telecommunications efforts.
Although it runs Android 10, the responsiveness of the operating system is excellent, and the features built into Google and Microsoft services help extend the NexPad's value proposition. Multiple user accounts are supported, so if you are sharing a conference area with someone else or if that device is used by multiple people, the separation of profiles and app selections is a nice addition.
Incidentally, cabling with an Ethernet cable provided me with the fastest connectivity with Teams, Google Calendar, Office 365 apps, and Gmail.
With full access to the Google Play Store, you can set up the NexPad like any other Android tablet and load it up with more than just Microsoft teams. Apps like Google Duo, Meet, Zoom, WebEx, and Go-To-Meeting are all available and work as expected when using a Snapdragon 450 with 3 GB of RAM.
The most important performance metrics are sound and video quality, which were surprisingly good.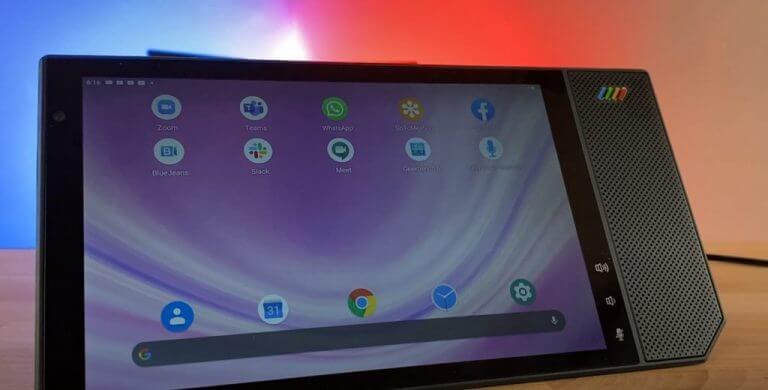 For a single speaker output, the sound is loud, clear and heady with minimal ting to vocals. On the camera side, your colleagues will see an image in UHD 4K resolution at 30 fps with very natural colors. In some angels, the camera mimics the coveted bokeh effect of more expensive DSLR cameras.
When it comes to the sound your conference mates hear, the 2-element beamforming microphone array sends out clear sound that does its best to suppress background noise. In a mid-sized office, you might get a bit of an echo depending on how the NexPad is placed on a desk.
When it comes to more recreational use as a workspace speaker for listening to podcasts or lo-fi ambient background noise, the NexPad can also double as a Wi-Fi enabled speaker, but it is not recommended. The speaker and microphone network seems particularly interested in transcoding live voices and sounds and not compressed audio.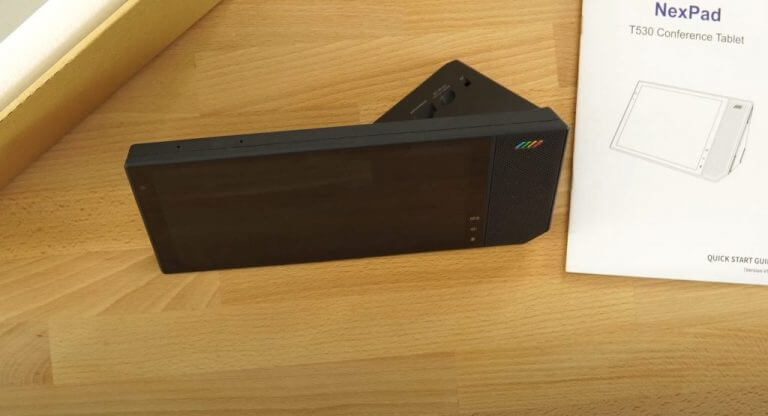 The NexPad can double as a YouTube mini player, Spotify or Pandora streamer or even a Netflix box during a lunch break, but it mainly excels in video conferencing.
Summary
At $ 500, the NexPad Pro is a bit higher than some of its more tablet-like competitors, while still featuring only average specs and software. However, as a dedicated conferencing device, it performs well, is easy to set up, and provides an overall pleasant experience for someone who spends the majority of their time in front of the camera and in a meeting.
In comparison, people can go for a simple $ 50 Amazon webcam, another $ 70-100 Bluetooth / USB speaker, possibly a $ 35 dongle, and have a sprawling desktop surface to get a near-related experience. .
However, what is not taken into account is the fact that the NexPad serves as a dedicated device that allows users to freely use their computers without the fear of accidentally sharing screens, repositioning a laptop at every conference. phone call time and worrying about the length of calls due to battery power.
Ultimately, $ 500 is a bit pricey for a Teams or Zoom box, but for someone who spends some if not most of their time in video conferencing, the full value of the NexPad will most likely be recouped within the first month. about. .
Share this post: